Here's the hack that won me the very first Yahoo! Hack for Good award, way back in 2007. Sadly, this did not ship while I was a Yahoo employee; I am seeing encouraging signs that Phillip Tellis is working on it, so I now feel free to post this in public.
The National Center for Missing and Exploited Children is one member of a network of Web sites that feed into a central multilingual database with information and photographs of missing children. Network participants customize their country's website to meet their individual needs. This enables each country to quickly and easily create posters of missing children from their country in their native language.
This hack uses English data from missingkids.com to create a CAPTCHA, which stands for Completely Automated Public Turing (test to tell) Computers and Humans Apart.
Among other things, users desiring a new Yahoo! login need to pass a CAPTCHA, so we serve up a ton of these things every day. By partnering with missingkids.com, we could greatly increase public awareness, and (hopefully) get a few kids back to their families.
Here's a working prototype. (Emphasis on "prototype" ... if the image doesn't show up, please reload the page.)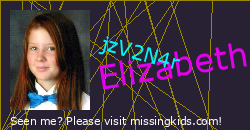 Comments from before Disqus: